Ferragosto 2016
Tre sale, dieci Dj's, 20 Years of Music!
L'evento più atteso dell'estate 2016! Ferragosto allo Sciabecco Discoclub! Tre sale, dieci Dj's e tanta tanta musica e divertimento! Il divertimento comincia dalla mezzanotte. Sarà un evento indimenticabile che segnerà in maniera indissolubile questa calda estate.

LINE UP MAIN-ROOM
DJ/SETS Laddo / Edo Solinas / Cool Caddish

LINE UP IN THE CLUB
DJ/SETS Sandro Murru / Cesare Monni / Ale Soriga

LINE UP HOUSE-ROOM
DJ/SETS Dusty Kid / Claudio Prc / Marascia / Fabrizio Barberis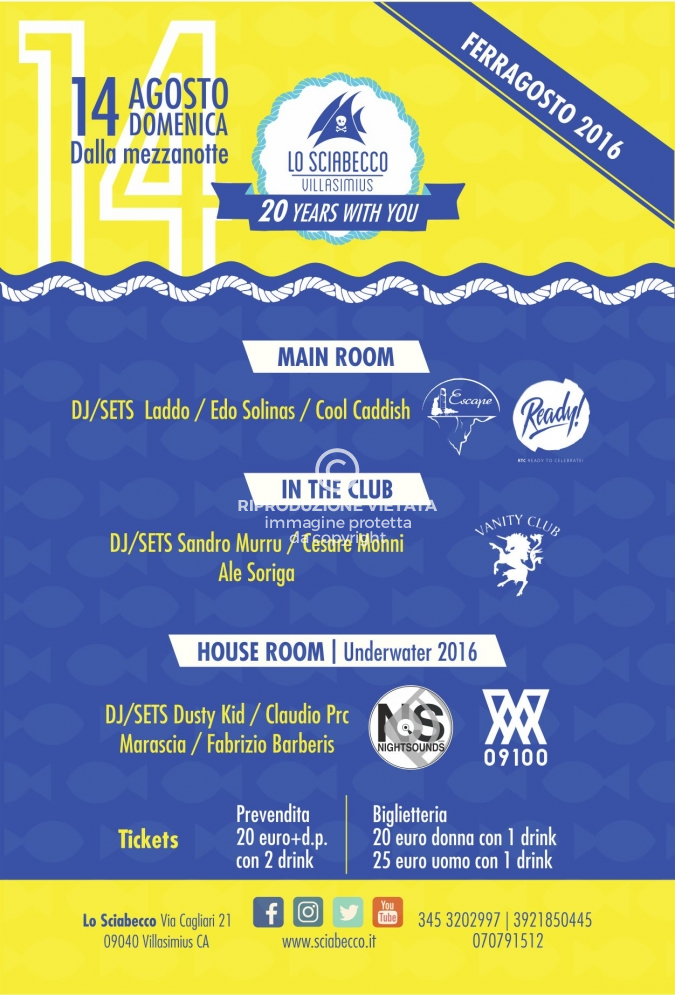 TICKETS IN PREVENDITA
20,00 euro + diritti di prevendita (ingresso + 2 Drink)
TICKETS BIGLIETTERIA all'ingresso
Donna: 20,00 euro (ingresso + 1 Drink)
Uomo: 25,00 euro (ingresso + 1 Drink)
In The Club: ingresso riservato e prioritario, solo su prenotazione tavolo oppure con accredito della direzione o dei nostri PR.
Tavoli a partire da 200,00 euro (per sei persone).
Main Room: Tavoli su prive' rialzato o bordo pista euro 200,00 (per 6 persone).
House Room: Tavoli lato consolle rialzato - euro 400,00 (per 10 persone, con 2 bottiglie incluse nel prezzo).
***
INFO

345.3202997 - 3921850445
Evento ogranizzato in collaborazione con:
ESCAPE - READY TO CELEBRATEVANITY CLUBNIGHTSOUNDS - UNDERWATER
BASSTATION09100 EVENTI